As most of you know, Aaron has a 96 Pontiac Sunfire that has been bone stock for most of it's life. Aaron has done a few cosmetic things to the car, like sound system, blacking out the tail lights and underglow lights (that have been removed finally!).
But recently Aaron was wanting a little performance mod to his car (now we know it's a sunfire...but every bit of hp that they can get is well worth it). After looking at aftermarket cold air intakes that exceeded well higher than $200, Aaron and I decided to make one out of PVC pipe and a cone filter from AutoZone. All work was done last week. We bought roughly $7 worth of 3" pipe, 2 of the 3" to 4" rubber connectors at $8 a piece, 1 of the 3" 90 degree elbows for $4(all PVC piping and connectors were found at Lowes), a crankcase filter for crankcase ventilation at $10, and a 3.5" cone filter at $25. So now we have $55 worth of parts and all we have to do is put them on the car and fabricate the lengths and make the necessary adjustment to get the intake installed and still have hood clearance. So after about an hour of figuring it out how it would work, this is what we came up with: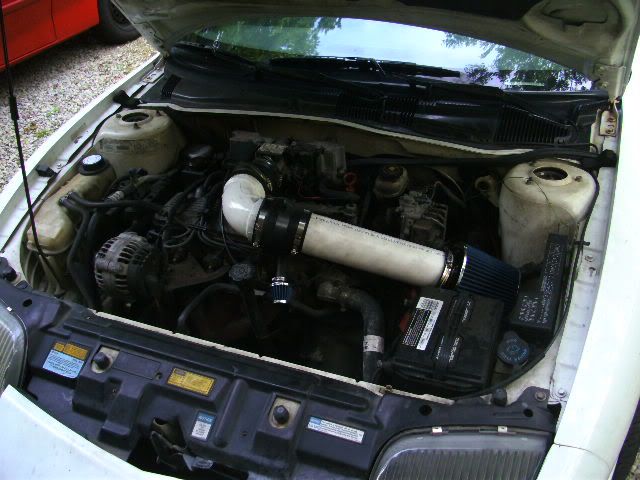 We were gonna paint it, but ran out of time cuz we had to drive to Louisville for a club meeting, but Aaron said he could tell that the car was just a hair louder, faster on acceleration, and his check engine light went out (not sure that the intake made it go out, but Aaron said that the light had been on since before he got the car...)
Fast forward to today. Aaron had some free time, so he decided to paint the intake black to better blend in with the car and not be an eye sore. So we took everything back apart and started taping and light sanding for paint and fixed a few odds and ends.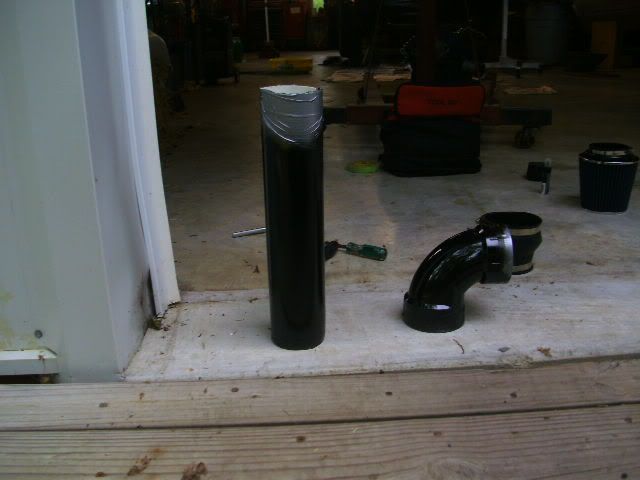 The pipes were painted and waited to dry. After they were dry, Aaron removed the tape and started reassembling the pipes and connectors and cone.
We got everything put back together and checked for hood clearances and suprisingly after we painted it, the hood shut better than when we first installed it! Krylon plastic paint was used in painting the pipes.
Another satisfied customer at the shop:
And a little trash talk lol: "Beaner Destroyer" Driver: Aaron Walker